About Program
Post Basic B.Sc Nursing (PB-B.Sc) is a programme that's been fashioned to impart an understanding of advanced nursing. The course gives an opportunity to the candidates to brush up their medical skills including both surgical and non-surgical.
It basically seeks to polish the competencies, critical thinking skills, competencies and standards as required for professional nursing. Post Basic B.Sc Nursing is a two-year undergraduate course that is ought to upgrade the personal and professional scope of work in the field.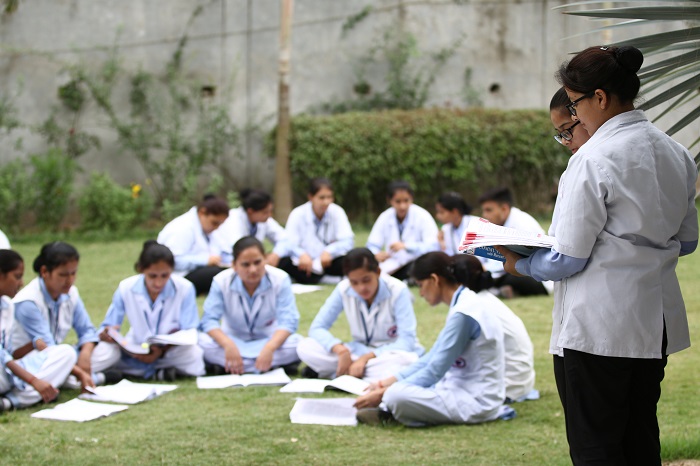 After pursuing a Post Basic B.Sc Nursing course, candidates are expected to make independent decisions in various nursing situations wherein they need to provide preventive, rehabilitative services to their patients. The programme is aimed at preparing students to take up job roles like Nursing Superintendent, Nursing Supervisor, Staff Nurse, etc. in both government and private sectors.
Post Basic B.Sc Nursing Course Highlights
| | |
| --- | --- |
| Course Name | Post Basic B.Sc Nursing |
| Short Name | PBBSc |
| Course Level | Undergraduate |
| Course Type | Degree Programme |
| Degree | Bachelor of Science (B.Sc.) |
| Specialisation | Nursing (Post Basic) |
| Relevant Stream | Paramedical |
| Course Duration | 2 Years |
| Course Mode | Regular |
| Minimum Qualification Required | 10+2 and GNM |
| Age | 18 – 19 Years or over |
| Selection Process | Admission Through Entrance Exam/ Direct Admissions |
| Job Type | Certified Nurse, Nursing Assistant, Associate Dean, Nursing Instructor, Content Writer (Medical), etc. |
Post Basic B.Sc Nursing Eligibility
He/she should have passed the General Nursing and Midwifery (GNM) Course.
He/she should have qualified 10+2 with Physics, Chemistry, Biology and English as compulsory subjects.
Scope and Jobs
| Job Profile | Job Description |
| --- | --- |
| Clinical Nurse Specialist | Clinical Nurse Specialists work in doctor's facilities, hospitals, clinics, medical centres, and other healthcare centres. They are typically specialists in a particular territory, for example, gerontology, cardiovascular health, or public policy. |
| Legal Nurse Consultant | Legal Nurse Consultants are registered nurse attendants who offer medical data to legal entities and experts about relevant cases. The expert counsel of such professionals may constitute arranging medical care, surveying medical records, or preparing reports and outlines about the ailing. |
| Forensic Nurse | Nurses perform duties that are significantly more specific than nurses commonly perform. They perform an assortment of roles, including assessing and caring for victims of assault, child and adult abuse, domestic abuse, neglect, and sexual crimes. As they treat casualties, forensic nurses gather and secure evidence. |
| Travelling Nurse | Travelling Nurse is a healthcare professional who helps constantly sick or homebound patients or helps in medical offices with staffing deficiencies. Some travel nurses move between hospitals, schools, and clinics too. |